With iTeach.world you can...

Keep your students
Continue to offer classes to former and departing students who know and trust your brand

Reduce your costs
Eliminate the expense of time and travel for your teachers by offering online lessons to your off-site clients

Reach more students
The flexibility and convenience of online classes means that your classes are now accessible to more students. In addition, your courses are now available to students anywhere in the world

Stay competitive
Today's students expect schools to also offer online courses. Schools that don't are perceived as out-of-date
Much more than a learning management system
iTeach.world also includes content creation tools, a virtual room for live online classes, and eCommerce tools so students can discover, register, and pay for your courses. Sell live online lessons, create group or self-paced courses or use your branded iTeach.world academy for blended or flipped learning. With our cloud-based platforms' built-in WebRTC powered virtual room and mobile app students can join live online classes, do learning activities and assessments wherever they are.
Our simple, monthly subscription based pricing model gives you flexibility to scale up or down adapting according to your needs.
Getting started is much easier than you think
Create your online school in less time than it takes to drink a cup of coffee. Registering an iTeach.world account instantly creates your co-branded online school that you can start using right away. Set the contact details, upload your logo and photos to match your school's branding, create categories and add teachers.
We will be there to help you, as all iTeach.world school owners receive free exclusive access to the iTeach.world Academy, our own self-paced course which guides you through the process of setting up and operating your online school. E-mail and private coaching are also available.
Made for teachers - by teachers
Unlike other similar platforms, iTeach.world was built and is ongoingly improved on the basis of real-life teaching experiences including student and teacher feedback, which make it easy for you to implement your own teaching methods to an online environment.
Our growing experience helps us to better understand the unique problems that educational institutions have to face, specially when it comes to integration of technology into an existing school environment. We give every client individual attenction and assistance with special regard to technical tasks, so they can really focus on the teaching activities.
With Features You'll Need

Course and content creation tools

Virtual room for live classes

Quizzes and tests

Integrated payment system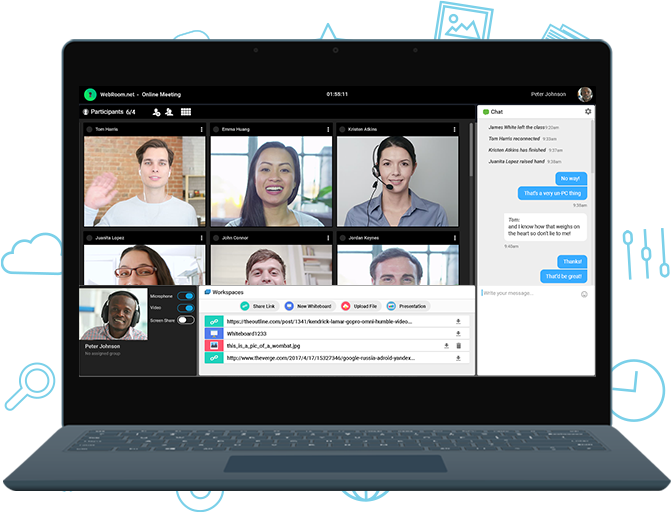 Mobile app

Multi language possibility

Student management and reporting

Advanced admin functions
Frequently asked questions
If you have a specific question, feel free to contact us.
How do teachers join my school?
Teachers can register to your school as users and the school Administrator upgrades their status to 'Teacher', which gives them access to all the teaching functions of the school.
What are the payment options for students?
Students can pay using PayPal and Stripe for accepting credit and debit card payments.
Can students use the platform through a mobile app?
Yes, with the iTeach mobile app your students can access their courses from any mobile device.
Can I use my own domain for my school?
With our white label option your students can access your virtual school directly from your website. Changing the default URL of your school to your desired domain or subdomain takes a few days, we give you all the information and guidance you need to help us finishing the setup process.
Get Started For Free
Got questions? We can help!