With iTeach.world you can...
Just a few examples on how you can use iTeach.world to reach your current and future customers online
Start something new
Start an entirely new online project consisting of live or self-paced courses

Widen your audience
Bring your existing knowledge sharing concept online and increase your revenues while reaching a wider audience

Offer more
Create a virtual extension to your real-life business solution and offer extra benefits to your customers

Use Webroom to consult
Consult or educate your clients live through WebRoom, our integrated virtual room solution

Grow your brand
Save time, money and efforts by moving such business activities, as training, knowledge sharing or education in your branded virtual space
With All The Features You Need

Cloud-based platform

Integrated virtual room

Learning content

Built-in payment system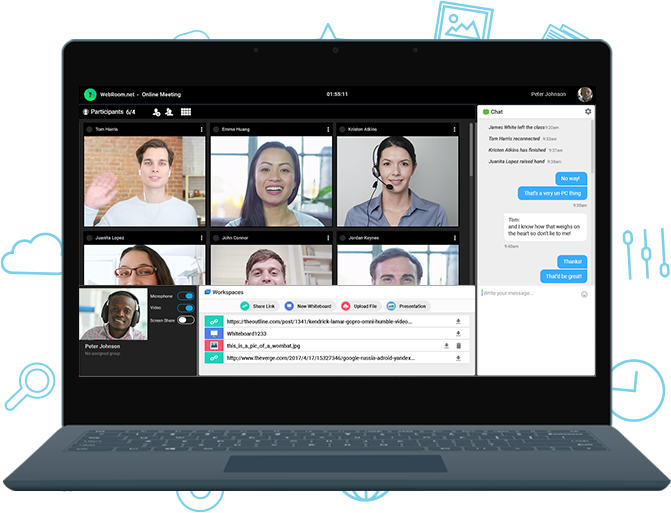 Mobile app
Multi language possibility

Student management
Customization options
From live classes to payment, all in one single solution
Teaching and training online is a cost effective way of modern knowledge transfer tailored to the needs of our tech-focused and fast-paced environment. Your business can generate revenues while you don't need to worry about coordinating many separated platforms. Because who has time for so many administrational tasks and monitoring, when you have business to do?
We integrated all the tools you would separately use from payment to the live virtual classroom in one single product, so you can save time, money and maybe a few headaches.
Branding and customization options
Make your product truly your own! Upload your brand's logo, use your preferred colors and images to make your educational project match your business profile and your audience needs. Our white label solution makes it possible for users to reach your virtual academy directly from your domain or sub-domain and receive all notification emails directly from your email address.
Need some extra features or settings? No problem, we can easily customize the features to match your needs.
A virtual learning environment for small businesses
As an SMB ourselves, we understand the problems and challenges you face when starting something new. Using this knowledge we offer solutions that empower our clients and give them ready-to-use tools and strategies that lead them to success.
Our system's scalability allows us to support your growth and adjust to your changing demands. Our support team is ready to give individual attention to your problems or questions.
Frequently asked questions
If you have a specific question, feel free to contact us.
Do I need to have coding knowledge to create my own iTeach.world virtual academy?
No, iTeach.world is ready to use, you don't have to to be an IT professional to get started. It's very simple: just register a free account on iTeach.world and we take care of the rest. When you create your account, you also get access to our exclusive self-paced course and daily email series that help you get started in no time.
Can I host my iTeach.world academy under my own domain?
Yes, you can request our white label solution in addition to your chosen package. Changing the default URL of your school to your desired domain or subdomain takes a few days, we give you all the information and guidance you need to help us finishing the setup process.
I already have a website, can I integrate my online academy with it?
What we usually recommend is adding a menu or button linking to your virtual school. Whether you have a Joomla, Wordpress, or Drupal based website, it is very simple to put a link into your site.
Can I cancel my subscription any time?
Yes, your subscription can be cancelled any time, however we can not refund you the paid amount. You can of course use all the features included in your package until the last day of the given period and don't have to pay any fees after your subscription ends.
Register Your Free Account Now